Mesa Mercado is an expression of Oaxacan urban markets, where people gather with friends, family and lovers to enjoy the beauty and passion of a culture through food and spirits.
Sit in casual elegance as you explore the flavors of Oaxaca through fresh ingredients and centuries of tradition. Whether you prefer a Negro Mole con Pollo, with tender chicken and a deeply flavored Mole or the excitement of our extensive plant-based Vegan menu, there's a dish to please any discerning palate.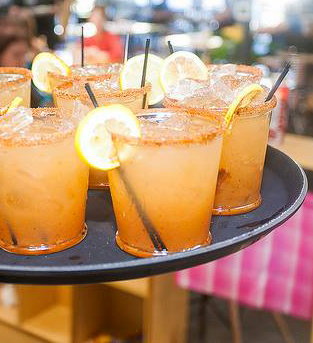 We invite you to look through our menus, come in for a small bite, and try one of our small-batch artisan Tequilas or Mezcales. Stay for one of our many Margaritas, all made with fresh ripe ingredients.
We feature regular live musical performers who sing some of the most beautiful songs of México. You'll be swept away to a small Oaxacan mercado as you listen.
Be sure to check out our
Hambre Club
– it's a group of friends who meet regularly to enjoy a special dinner and each other's company. It's free to join, and as a member you'll get invitations and discounts to events, plus a monthly calendar so you can plan your visits.
Let us introduce you to the real México, with diverse regional food and artisan spirits. All the passion, joy and playfulness of our culture is here at Mesa Mercado.