You're Invited to a special Wine Tasting and 4-course Dinner with Robledo Winery!
Thursday, January 17, 6:00 pm
Reservations and pre-payment required
We'll start with a wine-tasting at your table while you learn about the story of Robledo Family Winery.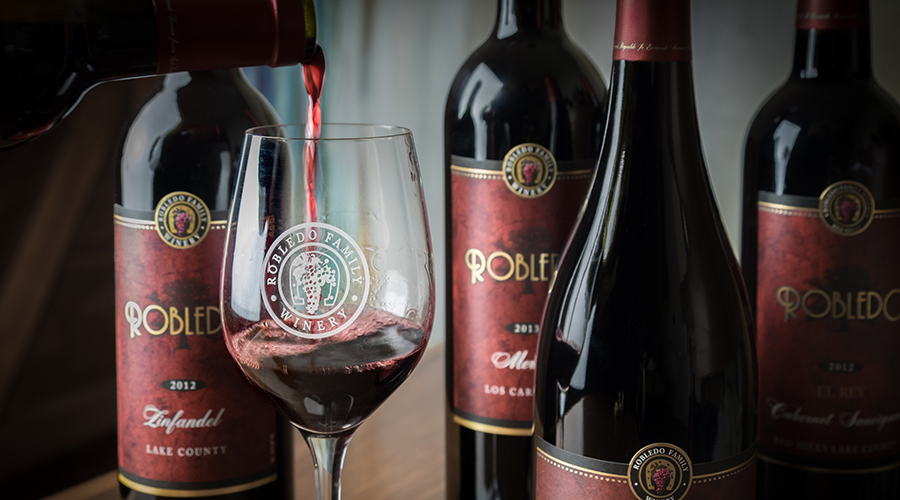 Fine wines we'll be tasting:

2016 Sauvignon Blanc, "Oak Ranch" Lake County
Seven Brothers, Chardonnay "Rancho Lazaro" Los Carneros
Seven Brothers, Pinot Noir "Rancho Lazaro" Los Carneros
2014 Cabernet Sauvignon "El Rey"Lake County Red Hills
 
Then, we will begin our four-course dinner:
House-made Chicharrones with Tomatillo Sauce
There's nothing like chicharrones made from scratch.
Enfrijoladas with Oaxacan queso
Creamy black beans, fresh corn tortillas and spices make this a Mexican comfort food
Puerco Adobo
Pork slow-cooked in Adobo chile sauce until fork-tender. Layers of amazing flavor!
Fresh creamy lime custard with a Maria Galleta cookie
Just-squeezed lime juice and cream cheese are the main ingredients of this dreamy dessert.
We'll have a plant-based option for our Vegan friends, of course!
Each of the wines has been curated to pair with the four courses by Lazaro Robledo. Wines will be available by the bottle at an excellent price for you to enjoy during dinner or take home.
The story of Robledo Family Winery
Robledo Family Winery is a miracle made of long days in the hot sun and a love of the soil. Reynaldo Robledo left his beloved home state of Michoacán, México in 1968. At only sixteen years old, Reynaldo had dreams of one day owning a small plot of land.
He arrived in the beautiful Napa Valley, experiencing with wonder the vast expanse of green that was the Christian Brothers vineyards. That day he learned how to carefully prune his first vine.
Reynaldo spent the next three decades learning every aspect of the winery business – from field hand to managing a large crew. Eventually, he started his own vineyard management company.
Over time, the family purchased fourteen vineyards totaling 350 acres. In October, 2003, Reynaldo and
his family opened the first winery established by a former Mexican migrant worker.
As always, Hambre Club Members pay only $35 (and can purchase 3 seats and get the 4th FREE). General public price $45 (but you can join for FREE here and enjoy the discount)
Cancellation Policy:  If for any reason you can't attend the event after you've paid, you may choose from the following:
*  We'll transfer your credit to another event of equal value at this restaurant or;
*  We'll issue a PayPal refund less a $10 processing fee