YOU'RE INVITED TO:
Mesa Mercado Hambre Club
Summer Seafood Dinner!
Thursday, August 8, 2019 6:00 pm
It's mid-Summer, and we think that's a great reason to celebrate with a special menu featuring Seafood. Though we're far from the ocean, we think you'll smell the salt air and hear the rhythmic ocean waves with this menu.
Start
Aguachile Tostada
A mildly spicy chile lime spiked shrimp Ceviche, served on a crispy tostada shell
Small Bite
A fresh Fish Taco, Mesa Mercado style
Blue Corn tortilla, filled with tender fish lightly battered and crisped, our chipotle sauce, fresh lime, and homemade slaw
Entrée
Tierra y Mar Camarones
This is the dish we served on Father's day here at Mesa Mercado. Everyone who ordered it has been asking us to serve it again. Here's your chance to enjoy this wonderful dish which starts with tender fresh large shrimp on a sauce made from poblano rajas, onion, peas and garlic. Served with crisped garlic.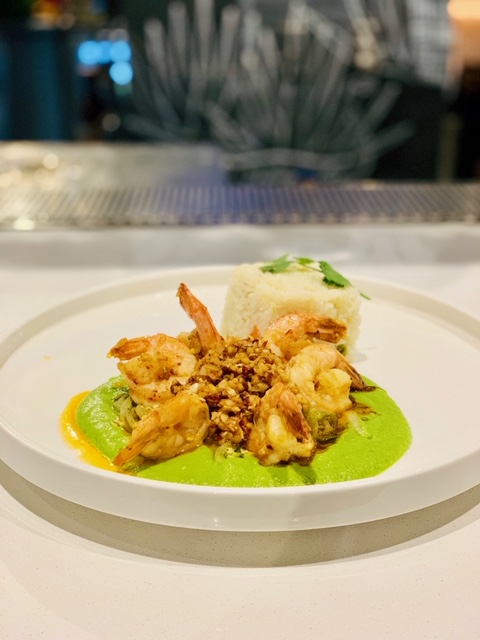 Dessert
Ripe Plantains
Caramelized to bring out their natural sweetness.
Served over our house made Vanilla ice cream.
We'll serve tastings of the following wines with your meal:
Robledo Sauvignon Blanc
Robledo Pinot Noir
Sobon Barbera
As always, a Vegan selection will be available.
Cancellation Policy:  If for any reason you can't attend the event after you've paid, you may choose from the following:
*  We'll transfer your credit to another event of equal value at this restaurant or;
*  We'll issue a PayPal refund less a $10 processing fee