SOLD OUT
Join Us for a Special Hambre Club
Holiday Dinner!
Thursday, December 9, 2021  6:00 pm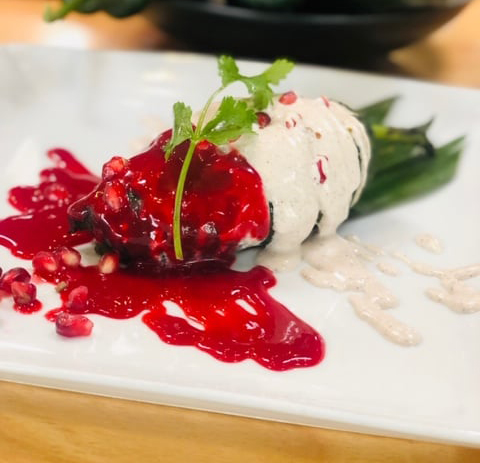 We are celebrating the holidays this year with traditional drinks and dishes. Enjoy the magic of the season as you visit with your friends!
We'll enjoy traditional Ponche with Tequila and Atole Eggnog with Brandy and Rum.
Tostada Tinga de Pollo
Shredded, seasoned chicken in luscious spicy Tinga sauce – on a crispy mini tostada
Bite into our Navidad Tamale with seasoned chicken and rich mole
Enjoy the iconic dish of Mexico – the Chile en Nogada. A roasted Poblano filled with beef and pork, pear, peach, apple, raisin, onion and almond. This beautiful dish is topped with a white walnut cream sauce and sprinkled with pomegranate seeds. It is traditionally served at room temperature, to allow you to taste each of the wonderful flavors of the late Fall.
We'll enjoy a special Christmas Fruit Cocktail for dessert.
Members $40 Non-members $50, gratuity not included.
This is an over 21 event.
Bring your family and friends and experience the holidays in a unique way.
You'll get a receipt from PayPal; we don't send separate receipts but will of course have your name on a list.
Cancellation Policy:  If for any reason you can't attend the event after you've paid, you may choose from the following:
*  We'll transfer your credit to another event of equal value at this restaurant or;
*  We'll issue a PayPal refund less a $10 processing fee